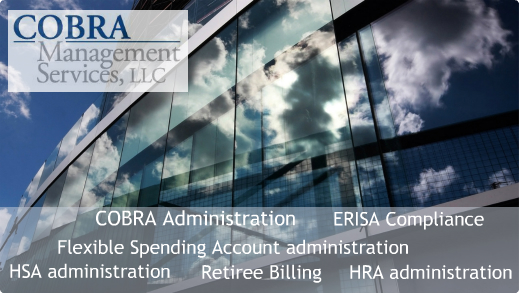 COBRA Management Services, (CMS) is a leading employee benefits administrator, well-known for specializing in exceptional service offering a variety of products that are designed to help employers meet the challenges of a rapidly changing workforce. With a professional staff of specialists, CMS offers consulting services relating to ERISA compliance, COBRA administration, Flexible Spending Account administration, Health Reimbursement Arrangement administration, Retiree Billing and Health Savings Account administration.
Originally started as a benefits software development Company in 1997, CMS quickly realized it could make a larger impact providing the COBRA Administration via its proprietary software system.  2001 CMS formally became a COBRA Administrator.  CMS has grown and changed with the economy and the workforce. CMS administers a variety of tax advantaged benefit plans using sophisticated debit card technology to meet the convenience needs of Plan participants and the administrative goals of the employer. CMS is a leader and innovator among Third Party Administrators. Our business continues to grow as a result of our service minded professionalism, technology and the fact that we are simply easy to work with.
We currently have administration offices in the Greater Seattle/Bellevue and the Dallas Texas Metroplex areas with strategic partners expanding in multiple locations across the country.